Gonstead Technique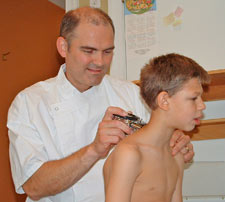 Named after its developer, Dr. Clarence Gonstead, this technique has been a benchmark in the chiropractic profession for decades. Dr. Gonstead was an amazing chiropractor who was able to get sick folks well even when other good doctors couldn't. His engineering background, expansive academic knowledge, and natural healing touch enabled him to have one of the largest chiropractic practices ever. By word of mouth, patients traveled from all over the country and all around the world to a tiny farm town in south-central Wisconsin to get help from Dr. Gonstead.
Dr. Gonstead was able to thoroughly teach his work and this great art was passed down to the next generation of chiropractors. Dr. Adams has invested thousands of hours of post-graduate studies into his mastery of the technique. He holds a Fellow status with the Gonstead Clinical Studies Society and is a long time member of the Gonstead Research Society. His healing touch draws patients from all around southwest Virginia and allows him to work on a wide range of health conditions—not just the garden-variety back pains that are often associated with chiropractic.
A Thorough Evaluation
After studying your health history, we conduct a complete examination. Using a painless heat-sensing instrument, subluxation patterns are revealed by observing slight differences in temperature. Carefully feeling your spine, or "palpating," with fingers and hands, we can detect small areas of swelling and areas of lack of proper movement that indicate subluxations.
Likely, full-spine x-rays will be taken in the standing position to reveal the alignment of your spine and the condition of the disk spaces. Improper alignment, poor spinal curves, old injuries and general wear and tear are all factors in determining the right type of adjustments for you.
Specific Adjustments
With a complete picture of your spine it's time to make the needed corrections. Spinal adjustments are highly specific and much effort is put in to adjusting exactly the right vertebrae in your spine on a particular visit. If we adjust your lower spine or pelvis, we'll likely have you lie on your side. When you need an adjustment in the middle back, you'll get to lie face down on a table we call the "hi-lo table" or in a comfortable kneeling position. We restore the integrity of your cervical spine (neck) while you are in a seated position without any twisting or rotation. Sometimes you'll hear a slight "popping" sound that we call cavitation. Sometimes you won't. Either way, better health is on the way!
Safe and Effective
A doctor's creed states that "Above all else, do no harm." For years, the Gonstead Technique has been and is still acknowledged as one of the safest systems of evaluating and caring for the spine. For more information on the Gonstead Technique, please go to www.gonstead.com